The Kaiser Estate was constructed beginning in 1938 when Henry J. Kaiser purchased this 15-acre lake-shore site. Upon acquisition of the site, Mr. Kaiser launched a feverish 30-day campaign during which 300 men labored 24 hours a day on three, eight-hour shifts in order to complete the buildings in time for a party celebrating the completion of the Hoover Dam.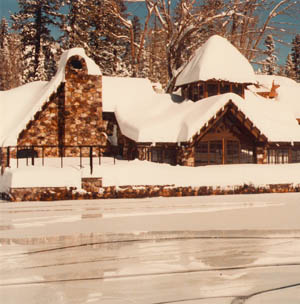 The original Estate consisted of 17 large homes, small cottages, servants' quarters, a yacht club and boat house. These buildings were constructed of rugged rock and timbers with finely detailed wrought-iron grill work accentuating the architectural design.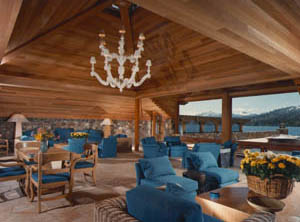 Initially, the Estate was created as an exclusive hideaway for Kaiser and the heads of the other five companies who joined forces to build the Hoover Dam project.
Morrison-Knudsen Co. – (Built the Trans Alaskan Pipeline)
Utah Construction – (Merged with GE in 1976)
J.F. Shea Co. – (Built the Golden Gate Bridge)
Pacific Bridge Company – (Built the Tacoma Narrows Bridge)
MacDonald & Kahn Ltd.
The Yacht Club served as a social gathering place and the boat house contained Kaiser's world renowned hydroplanes (His favorite being Fleur du Lac) which he would race while the most elite crowds would gather along the shore to enjoy a day of racing (His favorite competitor was R. Stanley Dollar, Jr.) at the lake.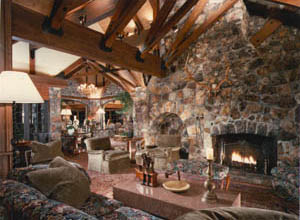 From the early 1960's until 1979, the Estate went through a series of transitional uses, including that of a private school, the primary on-location scenes for Francis Ford Coppola's film, "The Godfather II".
In the early 1980's, a project was started that included the remodeling of existing structures and the construction of 22 luxurious chateaux ranging in size from 4,300 to 6,000 square feet. Kaiser's original Yacht Club has been refurbished and restored in an even grander manner than the original and the Boat House has been transformed into an exquisite management meeting/party room. Two of the original homes have been restored to serve as an office and to house the on-site property manager.